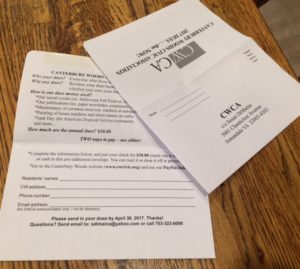 *The CWCA newsletter should be coming to your house in mid-April. It will be full of useful/important information AND the envelope you can use to pay your dues (if you don't want to pay the with Pay Pal here on our website.)
*We are in the process of scheduling our Community Yard Sale day and the Bulk Trash Pickup day — watch this spot and/or your yahoo list serve for exact info coming soon.
*The CWCA ANNUAL MEETING is tentatively scheduled for W, May 16 at CWES. Again, watch this spot for info.